On the evening of November 1st, I was given the opportunity to join my fellow Beedie Ambassadors at the Fraser Institute Founders' Award Tribute Dinner at the Fairmont Hotel Vancouver, thanks to the generosity of Ryan Beedie. Every year at the Tribute Dinner, the Fraser Institute honours an outstanding Vancouver businessperson with its prestigious Founders' Award. Recent recipients include Ian Telfer, Richard Jaffray, and Keith & Ryan Beedie.
This year's honouree was Gordon R. Diamond, Chairman of West Coast Reduction and Austeville Properties. During dinner, Mr. Diamond visited our table to thank us for coming and tell us about the keynote speaker he had selected for the evening, Rabbi Marvin Hier, founder of the Simon Wiesenthal Center in Los Angeles. Rabbi Hier – who has won two Academy Awards as a producer – began with a comical anecdote about working with Elizabeth Taylor.
The rest of his keynote address centred on the importance of Genesis 5:1 in Hebrew scriptures, which reads, "This is the narrative of the generations of man; on the day that God created man, in the likeness of God He created him." He explained how this passage illustrates the inherent value of every person, and that we are called to serve "the generations". He praised Mr. Diamond as a man who has lived this out.
Gordon Diamond truly has been a role model for his generation and those to follow. Over the years, the Diamond Foundation has contributed more than $150 million to charitable causes, including a $20 million donation to Vancouver General Hospital in 2006 to establish the Gordon & Leslie Diamond Health Care Centre. SFU students will also recognize the Diamond Family name from the Leslie & Gordon Diamond Family Auditorium and Diamond Alumni Centre at the university's Burnaby campus.
Earlier this year, I also had the chance to attend the Rix Awards with the Beedie Ambassadors, where Gordon & Leslie Diamond were honoured alongside the Beedie organization for their community and corporate citizenship. There as well, I was inspired by their generosity, humility, and heart for humanity.
As an up-and-coming businessperson, I look up to the Diamond and Beedie families as people who are leveraging their success to build others up. Their continual investment in the community is a testament to their character and a shining example for my generation to follow.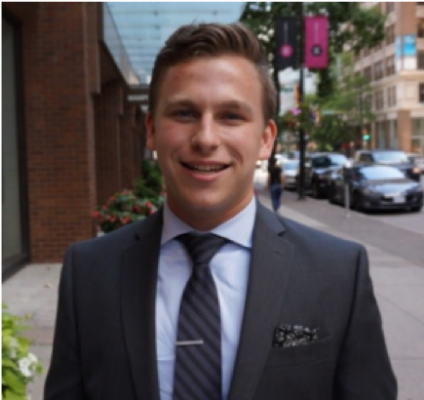 Daniel Breedveld is a BBA Candidate and Beedie Ambassador in his final year at the Beedie School of Business. Concentrating in Marketing & Management Information Systems (MIS), Daniel is eager to develop innovative solutions for important problems our generation faces. Highlights of his time at Beedie include two co-op internships with the Downtown Surrey Business Improvement Association, serving as Director of Sponsorship Strategy for CaseIT 2018, and serving as Director of External Relations for the Beedie Urban Development Program. He is currently working as a lead consultant with TeifiX. To connect with Daniel, find him at www.linkedin.com/in/danielbreedveld.