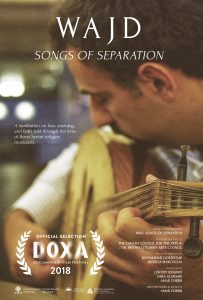 November 29th, 2018
The SFU Beedie MBA Games team and the Graduate Women's Council hosted a unique movie night experience in order to raise proceeds for the Canadian Council for Refugees.
Amar Chebib, a Syrian-Canadian director based in Vancouver, wanted to shoot a film about the traditional Sufi music of Syria. Six months after he began this project, "one of the largest humanitarian crisis of our time" started. That's how the movie turned into the story of three of the musicians that Chebib met in 2010, and their touching stories of overcoming their heartbreaking experiences and find relief in music. https://www.wajdfilm.com/about/
Wajd is currently only being screened at large-scale events, but Amar has generously accepted to share a part of the movie with us all to watch and enjoy.