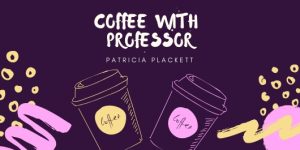 April 9th, 2019
For GWC's second "Coffee with Professor" event in the series, you're invited to a coffee chat with professor Patricia Plackett. In an intimate setting that will provide opportunity for open discussions on the topic of Investing in your intangible assets for career success the focus will be on two specific aspects: understanding the role of intangibles in recruitment today and making choices about personal priorities given the inevitable time constraints that affect us all. There will be plenty of opportunity for input and questions. Coffee and snacks will be provided!
This event has a limited number of spaces so make sure to register!
About Professor Patricia
Patricia Plackett holds PhDs in business strategy from Copenhagen Business School and in anthropology from the University of Toronto. Her background includes management, research and teaching positions in the public and private sectors. For four years she was Academic Director of the International Summer University Program at Copenhagen Business School where her research and teaching interests were focused on innovation and sustainability issues. Earlier positions include Assistant Director of a global executive MBA program, Project Manager of an EU-Asia Link Project and Researcher/Analyst with two research think tanks in Copenhagen. Prior to moving to Copenhagen in 1999 she was Executive Director of a professional education network for the forest sector of British Columbia in Vancouver. Her previous management experience includes roles as the first Technology Marketing Manager for New Zealand's Forest Research Institute and subsequently as the Director of Marketing and Business Development for the New Zealand Ministry of Forestry following several years with the management consulting arm of a multinational engineering company in Vancouver. She started her career with a position in the Department of Anthropology and Sociology at the University of British Columbia. In 2012 she was nominated for The Economist 'Business Professor of the Year' award and continued to supervise master's thesis students at Copenhagen Business School until 2017 and currently undertakes a range of consulting assignments involving workshop facilitation, textbook reviews, program assessments and course design and delivery as well as work on a UNESCO Biosphere Reserve initiative and David Suzuki Foundation initiatives.