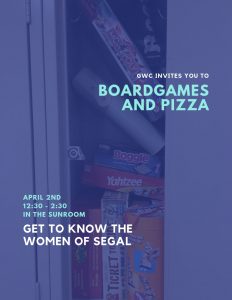 April 2nd, 2019
This semester has been a heavy one, so ladies let's balance it out together with some fun! Join us for some games and pizza and a chance to get to know each other!
Please register here, to let us know how much pizza we need!
Game Selection:
Monopoly, Yahtzee, Jenga, Ticket to Ride, Apples to Apples, Boggle, Agricola, Hogwarts Battle, Pictionary, Things in a Box, playing cards and Twister!
If you love a game that isn't on the list, bring it with you! 🙂