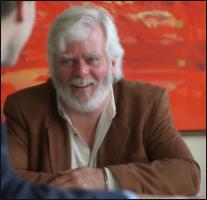 Drew Parker
Associate Professor, Management Information Systems
B.Com., M.B.A. (Calgary), Ph.D. (Western Ontario)
Burnaby Room:
WMC 3327
Burnaby Phone:
778.782.3102
Email Address: drew@sfu.ca
Curriculum Vitae:&nbspView
Biography
Dr. Drew Parker, who joined SFU Business in 1984, holds a Canada Trust Excellence in Teaching award (2002) and has a particular interest in online learning. He was among the first professors at SFU to develop and teach on-line courses and devotes much of his research to this topic. Recent projects include an examination of human-computer interface design issues for knowledge cohesion and retention in group discussion tools; an investigation of multimedia effects on coherence in knowledge-sharing environments; and instant messaging group task performance. Parker, who is originally from Alberta, likes to take advantage of BC's outdoors - he enjoys skiing, snowboarding and wakeboarding as well as off-road touring in his Jeep.
Research Interests
Strategic adoption of information technology, theory development in human-computer interaction; multimedia and web-based virtual meetings, with a particular emphasis on group performance and learning environments, computer and communications technology, business applications on the internet; internet policy issues, telecommunications and networking, so-called Web 2.0 and its impact on business.
Selected Publications
Articles and Reports
Tingling, P. M., Gemino, A. C., & Parker, D. C. (2011). Changing channels: The impact of Web 2.0 on supply chain management. Production and Inventory Management Journal, 47(2), 31-44. http://doi.org/No DOI
Gemino, A. C., & Parker, D. C. (2009). Use case diagrams in support of use case modeling: Deriving understanding from the picture. Journal of Database Management, 20(1), 1-24. http://doi.org/10.4018/jdm.2009010101
Masri, K., Parker, D. C., & Gemino, A. C. (2008). Using iconic graphics in entity-relationship diagrams: The impact on understanding. Journal of Database Management, 19(3), 22-41.
Gemino, A. C., Parker, D. C., & Olnick kutzschan, A. T. (2006). Investigating coherence and multimedia effects of a technology-mediated collaborative environment. Journal of Management Information Systems, 22(3), 97-121.
Books, Book Chapters and Monographs
Masri, K., Parker, D. C., & Gemino, A. C. (2009). Using graphics to improve understanding in conceptual models. In Siau, K., & Erickson, J. (Eds.), Principle Advancements in Database Management Technologies: New Applications and Frameworks (pp. 310-334). Hershey, United States: I G I Global. http://doi.org/10.4018/978-1-60566-904-5.ch015
Parker, D. C. (2008). Foreword. In Iaonnou, K., & Kotsopoulos, S. (Eds.), Heterogeneous Next Generation Networking: Innovations and Platform. Hershey, United States: I G I Global. http://doi.org/10.4018/978-1-60566-108-7
Parker, D. C., & Gemino, A. C. (2003). Moving a university toward on-line learning: Opportunities, challenges, and technologies. In Ottewill, R., Borredon, L., Falque, L., Macfarlane, B., & Wall, A. (Eds.), Educational Innovation in Economics and Business (pp. 61-76). Dordrecht, Netherlands: Springer Netherlands. http://doi.org/10.1007/978-94-017-1386-3
Teaching Related Material
Parker, D. C., & Masri, K. (2015). The evolution of online learning and related tools and techniques toward MOOC's. In McKay, E., & Lenarcic, J. (Eds.), Macro-level learning through massive open online courses (MOOCS): Strategies and predictions for the future (pp. 212-221). Hershey, United States: IGI Global. http://doi.org/10.4018/978-1-4666-8324-2.ch012
Shahryari Monfared, S., Ajabi Naeini, P., & Parker, D. C. (2013). Bringing web 2.0 into the learning environment. In McKay, E. (Eds.), ePedagogy in Online Learning: New Developments in Web Mediated Human Computer Interaction (pp. 109-118). Hershey, United States: I G I Global. http://doi.org/10.4018/978-1-4666-3649-1.ch007
Gemino, A. C., & Parker, D. C. (2011). Visual support for use case modeling: An experiment to determine the effectiveness of use case diagrams. In Siau, K. (Eds.), Theoretical and Practical Advances in Information Systems Development: Emerging Trends and Approaches (pp. 1-19). Hershey, United States: I G I Global. http://doi.org/10.4018/978-1-60960-521-6.ch001
Powered by TRACS