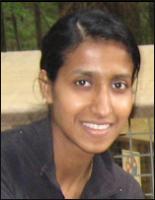 Rekha Krishnan
Associate Professor, International Business
PhD in Business (Center Graduate School, Tilburg University, The Netherlands)
Burnaby Room:
WMC 4311
Burnaby Phone:
778.782.3047
Email Address: rekhak@sfu.ca
Curriculum Vitae:&nbspView
Biography
Rekha Krishnan joined the Beedie School of Business in September 2005 from the University of Tilburg in the Netherlands. Her dissertation, which examined trust and alliance performance, won the prestigious Richard Farmer Best Dissertation Award.

An Associate Professor in international business, Rekha focuses on the nature and consequences of interorganizational network dynamics and on the unintended consequences of status based stratification of markets.

Originally from India, Rekha finds Vancouver's beautiful landscape an inspiration for her poetry, which has been published in Indian English language newspapers.
Research Interests
Inter-organizational networks, Social Movement, Research Methods (Meta-analysis).
Selected Publications
Articles and Reports
Eapen, A., & Krishnan, R. (2019). Transferring Tacit Know-How: Do Opportunism Safeguards Matter for Firm Boundary Decisions? Organization Science, 30(4), 715-734. http://doi.org/10.1287/orsc.2018.1236
Krishnan, R., Geyskens, I., & Steenkamp, J. E. M. (2016). The effectiveness of contractual and trust-based governance in strategic alliances under behavioral and environmental uncertainty. Strategic Management Journal, 37(12), 2521-2542. http://doi.org/10.1002/smj.2469
Krishnan, R., & Kozhikode, R. K. (2015). Status and corporate illegality: Illegal loan recovery practices of commercial banks in India. Academy of Management Journal, 58(5), 1287-1312. http://doi.org/10.5465/amj.2012.0508
Geyskens, I., Krishnan, R., Steenkamp, J. E. M., & Cunha, P. V. (2009). A review and evaluation of meta-analysis practices in management research. Journal of Management, 35(2), 393-419. http://doi.org/10.1177/0149206308328501
Eapen, A., & Krishnan, R. (2009). Conform or rebel: When does keeping to the rules enhance firm performance? Canadian Journal of Administrative Sciences, 26(2), 95-108. http://doi.org/10.1002/CJAS.100
Janowicz-Panjaitan, M., & Krishnan, R. (2009). Measures for dealing with competence and integrity violations of interorganizational trust at the corporate and operating levels of organizational hierarchy. Journal of Management Studies, 46(2), 245-268. http://doi.org/10.1111/j.1467-6486.2008.00798.x
Krishnan, R., Martin, X., & Noorderhaven, N. G. (2006). When does trust matter to alliance performance? Academy of Management Journal, 49(5), 894-917.
Books, Book Chapters and Monographs
Krishnan, R., Noorderhaven, N., & Eapen, A. (2012). Collaboration across borders: Benefits to firms in an emerging economy. In Verbeke, A., Merchant, H., & Merchant, H. (Eds.), Handbook of Research on International Strategic Management (pp. 169-187). Cheltenham, United Kingdom: Edward Elgar. http://doi.org/10.4337/9781781009147.00016
Powered by TRACS