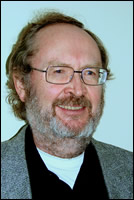 Rob Grauer
Professor Emeritus, Finance
Retired Faculty, Finance
B.Com., M.B.A. (British Columbia), Ph.D. (California, Berkeley)
Burnaby Room:
WMC 3337
Burnaby Phone:
778.782.3722
Email Address: grauer@sfu.ca
Curriculum Vitae:&nbspView
Biography
Professor Robert Grauer teaches investments, asset pricing, and corporate finance. His research interests include asset allocation, portfolio selection, asset pricing, performance measurement, and efficient markets. His publications have appeared in leading academic and practitioners journals in finance, economics, and management science.
Research Interests
Asset allocation, portfolio theory, market efficiency, capital asset pricing.
Selected Publications
Articles and Reports
Grauer, R. (2008). On the predictability of stock market returns: Evidence from industry rotation strategies. Journal of Business and Management, 14(2), 149-173.
Grauer, R. (2008). Benchmarking performance measures with perfect-foresight and bankrupt asset-allocation strategies. Journal of Portfolio Management, 34(4), 43-57.
Best, M. J., & Grauer, R. (1992). Positively weighted minimum-variance portfolios and the structure of asset expected returns. Journal of Financial & Quantitative Analysis, 27(4), 513-547.
Best, M. J., & Grauer, R. (1991). On the sensitivity of mean-variance-efficient portfolios to changes in asset means: some analytical and computational results. Review of Financial Studies, 4(2), 315-342.
Best, M. J., & Grauer, R. (1985). Capital asset pricing compatible with observed market value weights. Journal of Finance, 40(March), 85-103.
Powered by TRACS