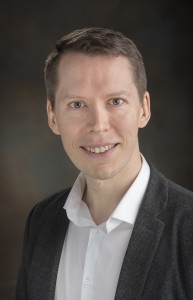 Simon Ford
Academic Director, Minor, Undergraduate Program
Term Lecturer, Innovation and Entrepreneurship
PhD, MA, MPhil, MEng (Cantab.)
Burnaby Room:
WMC 4373
Burnaby Phone:
778.782.5561
Surrey Room:
SUR 5028
Surrey Phone:
778.782.3868
Email Address: simon_ford@sfu.ca
Biography
After a two-year academic visit from the Institute for Manufacturing, University of Cambridge, Simon joined the Beedie School of Business full-time in September 2018.
At Beedie he teaches courses within the Innovation & Entrepreneurship concentration. During 2019-20 he's teaching the following courses:
In addition to teaching, Simon is also currently:
Previously, he was the Faculty Advisor to the SFU JDC West team that won School of the Year in 2019, and the Academic Coordinator of the Social Entrepreneurship Joint Semester for the 2018 and 2019 cohorts.
For his contributions to the student community, Simon was awarded the 2019 BASS Faculty Impact Award. He is also on the 2018-19 FBA Teaching Honour Roll, and was honored to be selected to deliver the Faculty Address at the Spring Convocation 2019.
Simon's most recent research explores the impact of 3D printing on society. His papers on this topic include:
If you're interested, you can see Simon talk about 3D printing as part of Beedie's Inside Innovation series; read his research papers on ResearchGate; laugh at him in the 2017 and 2018 SFU Faculty Smackdowns; and connect with him on Twitter and LinkedIn.
Selected Publications
Articles and Reports
Ford, S. (2015). Co-evolutionary processes and positive feedbacks in the growth of the ultimate fighting championships. Sport, Business and Management: an International Journal, 5(1), 31-49. http://doi.org/10.1108/SBM-11-2011-0083
Ford, S., Routley, M. J., Phaal, R., & Probert, D. R. (2014). The industrial emergence of commercial inkjet printing. European Journal of Innovation Management, 17(2), 126-143. http://doi.org/10.1108/EJIM-01-2013-0002
Mortara, L., Ford, S., & Jaeger, M. (2013). Idea competitions under scrutiny: Acquisition, intelligence or public relations mechanism? Technological Forecasting and Social Change, 80(8), 1563-1578. http://doi.org/10.1016/j.techfore.2013.01.008
Probert, D. R., Ford, S., Routley, M. J., O'Sullivan, E., & Phal, R. (2013). Understanding and navigating industrial emergence. Institution of Mechanical Engineers. Proceedings. Part B: Journal of Engineering Manufacture, 227(6), 781-793. http://doi.org/10.1177/0954405413479113
Ford, S., Mortara, L., & Probert, D. R. (2012). Disentangling the complexity of early-stage technology acquisitions. Research-Technology Management, 55(3), 40-48. http://doi.org/10.5437/08956308x5503048
Phaal, R., O'Sullivan, E., Routley, M., Ford, S., & Probert, D. (2011). A framework for mapping industrial emergence. Technological Forecasting and Social Change, 78(2), 217-230. http://doi.org/10.1016/j.techfore.2010.06.018
Powered by TRACS