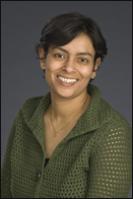 Srabana Dasgupta
Associate Professor, Marketing / Strategy
Ph.D (University of Southern California, Los Angeles), M.A. (Delhi School of Economics), B.A. (Jadavpur University)
Burnaby Room:
WMC 4366
Burnaby Phone:
778.782.3652
Email Address: srabana_dasgupta@sfu.ca
Curriculum Vitae:&nbspView
Research Interests
Durable goods; pricing; choice models; models of information asymmetry
Selected Publications
Articles and Reports
Zeng, X., Dasgupta, S., & Weinberg, C. B. (2016). The competitive implications of a "no-haggle" pricing strategy when others negotiate: Findings from a natural experiment. International Journal of Research in Marketing, 33(4), 907-923. http://doi.org/10.1016/j.ijresmar.2016.04.002
Zeng, X., Dasgupta, S., & Weinberg, C. (2012). How good are you at getting a lower price: A field study of the us automobile market. Journal of Consumer Affairs, 35(2), 255-274. http://doi.org/10.1007/s10603-012-9192-y
Zhu, R. (., Chen, X. (., & Dasgupta, S. (2008). Can trade-ins hurt you? Exploring the effect of a trade-in on consumers' willingness to pay for a new product. Journal of Marketing Research, 45(2), 159-170.
Dasgupta, S., Siddarth, S., & Silva-Risso, J. (2007). Lease or buy? A structural model of a consumer's vehicle and contract decisions. Journal of Marketing Research, 44(3), 490-502. http://doi.org/10.1509/jmkr.44.3.490
Powered by TRACS