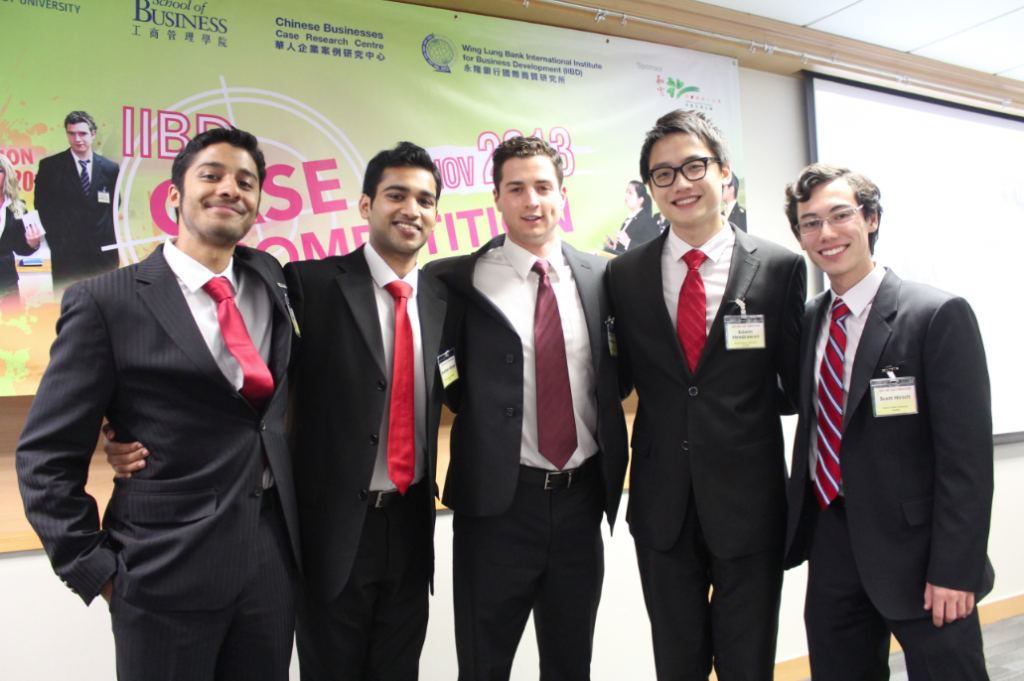 "The gold prize winner is…Simon Fraser University from Canada!"
– IIBD Case Competition Judge
I'd like to dedicate this post to my amazingly talented and hardworking teammates Edwin Hendrawan, Scott Hirsch, and Qaid Jivan as well as our coach, Isaiah Baldissera. If it wasn't for their perseverance and dedication, I wouldn't have this story to share with you. I hope this not only inspires you to get involved in case competitions, but also gives you insight on what makes this experience truly worthwhile.
We started the IIBD competition back in June against 29 universities through submitting what I consider to be the best team report I have been a part of in my university career. It also reassured us that the four of us could work well together – it's rare to not get tired of seeing the same people for 10-12 hours, ten days in a row. After we received a congratulatory email from IIBD organizers about making it to the final round in September, Edwin and I were screaming and hugging in WMC hallways. We were going to Hong Kong in seven weeks, but then it hit us – the real competition had just begun.
It was time to get started on serious training…and serious it was. Our case practices were set for 7AM every Friday (did I mention case competition training is intense?). I can't say this was the most fun part of the experience, but it was definitely worthwhile. No matter what went on in our lives, we stayed true to our promise to the team. Week after week and case after case, we got better but the competition also got closer. Not every practice session was up to expectations, but what was important though is that we put aside the gloomy faces and focused on how to come back stronger. We received constructive feedback from Isaiah and all the guest judges over those six weeks and with that in mind, we knew what we had to do going forward. Our last practice session, which was a day before leaving for Hong Kong, was definitely the best one thus far and we knew that we were ready.
November 8, 2013. I don't think I'll forget that date for a long time. I was excited, but also a tad nervous. We finished breakfast and headed off to meet the other teams and select the presentation order. SFU was going to present second! The next ten hours flew by faster than I could ever imagine. All I remember was the feeling of satisfaction and the sound of applause as our team finished presenting. Honestly, this is what I want to remember the most from that day.
SFU placed first and won the gold prize, meaning a very heavy trophy and a giant cheque. I managed to win the best presenter award, but I was still overjoyed from the win so didn't think much about it. But here's a thought – what if we hadn't won? Would the experience be less important if we came back with no trophies? I think all my team members would agree when I say this – the trophies are just recognition of what we accomplished on that day. The real experience came from the seven weeks that led up to the competition. What I learned through our training isn't comparable to any course that I have taken so far. Every practice session, every team meeting, and even the journey to and from Hong Kong is what made this experience truly memorable. The journey wasn't easy. In fact, I had to make many sacrifices on the way, but I enjoyed every step of the way and that's what made it worthwhile.
So when you decide to go on this journey, remember one thing: keep the end goal in mind, but focus on making the most out of your journey.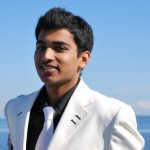 Madhav is a fourth year Management Information Systems and Finance (Hons.) student and is currently finishing his co-op work term at TELUS. He is passionate about ideas and action, which led him to organize the TEDxSFU conference as well as attend TEDActive. His other involvements include international case competitions, Enactus SFU, BASS FROSH, and RADIUS SFU. He is also a foodie and nature lover, so you can find him hiding in food joints or the mountains.