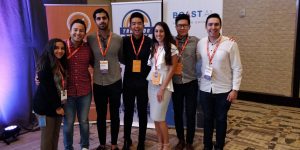 The Traction conference hosted in Vancouver annually is one of the biggest tech events of the year. Big name speakers are invited from all over the world, from the Silicon Valley to London, England. As an student who is studying Management Information Systems and someone who is a lover of all things technology, attending the event felt a lot like visiting Disneyland for the first time when you are young. You get lost in a trance as the venue you are attending is new, the faces are new, the content you are exposed to is new and the time you spend flies by over your head.
Day1
The first day of the conference was the Traction Opening Reception where attendees grabbed their conference badges and networked with speakers and attendees over food, drinks and live music. The reception offered a food truck with delicious Indian food, an ice cream making station and Tarot Card Reading. We mingled with professionals and volunteers until late in the evening discussing everything from politics to innovative product ideas.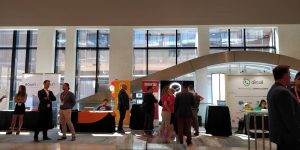 Day2
The conference opening began early in the morning at Parq Vancouver and the day was jam packed with content sessions. Some of the big-name speakers were Chris Slowe, the CTO of Reddit; Dholakia Sameer, the CEO of SendGrid; Dave Pickles, founder of The Trade Desk; and Sarah Jones Simmer, COO of Bumble. This year's theme for Traction's conference was Scaling Up, and all the speakers pitched their success stories from taking their own companies from their own idea stage, all the way to multi-million-dollar valuations and in some cases, initial public offerings.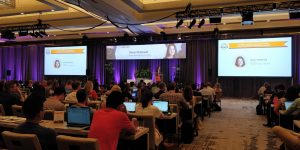 Scaling Up
As a student attending these tailored conferences, it can be hard to apply some of the invaluable concepts such as the Sales Acceleration Formula, or User Onboarding when you aren't affiliated with a startup, or don't have the time to harvest your ideas to their full potential. Nevertheless, Traction for us was still a lifetime opportunity for learning and "scaling" ourselves up by learning from the best of the best. The conference inspired us from all of the collective wisdom and made us fantasize to the point of having heated discussions about some of our own innovative ideas that people around the world could benefit from and enjoy. The next time you see a conference, information session, webinar or whatever it may be, try and attend and scale yourself up by learning and growing yourself to reach your full potential – whatever the topic may be.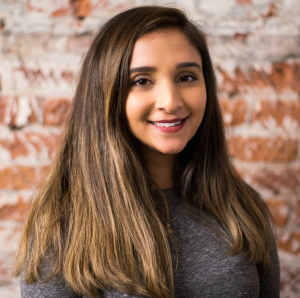 Sara Behrouzian is a BBA Candidate who is graduating December 2018 in Management Information Systems, with a minor in Communications. During her time at Beedie, Sara has immersed herself in many international experiences, from studying abroad at the Universität Mannheim in Germany, competing in international case competitions across North America, and promoting studies and research fort the Consulate of Germany as a Young Ambassador. These international exposures became a monumental point in Sara's life as she realized her love for travelling and is excited to bring her career and passions together as a Consultant after graduation. Since her first year at university, Sara has been actively involved in the Beedie community. Sara is a Beedie Ambassador, a Team Lead Consultant for Axis Consulting, a two-time International Case Competitor, and an undergraduate Teaching Assistant.