Remembering Keith Beedie (1926-2017)
Sep 25, 2017
---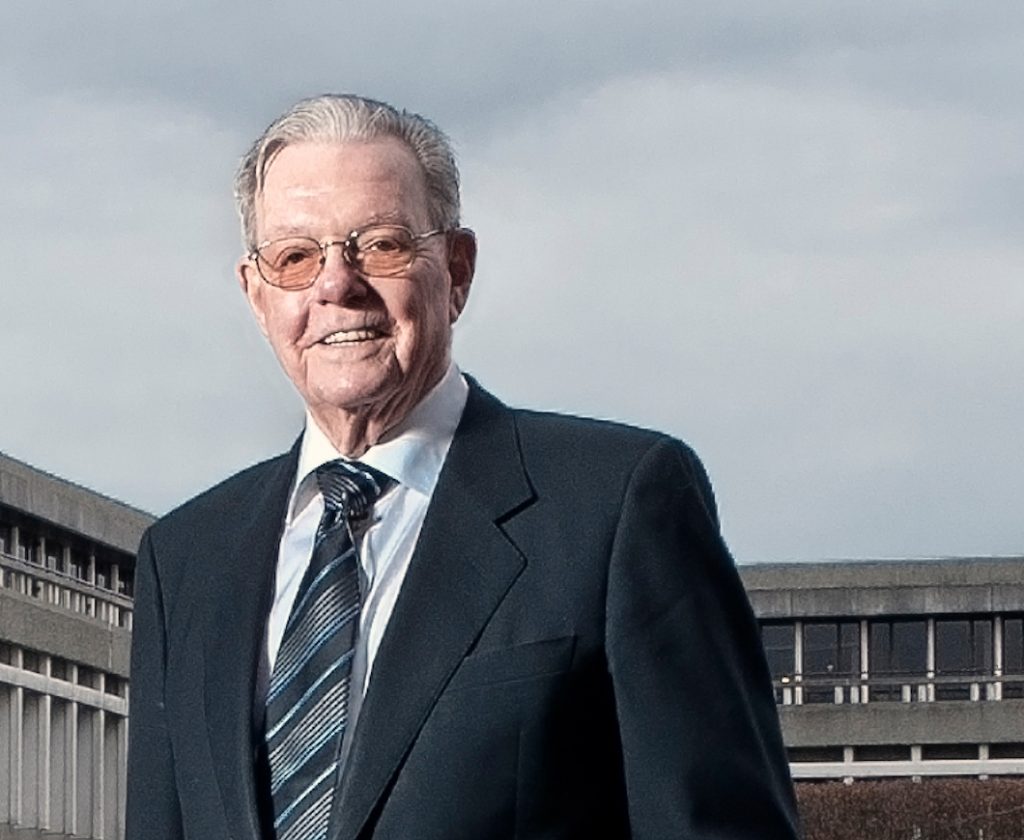 Statement from Ali Dastmalchian, Dean of the Beedie School of Business, on the passing of Keith Beedie, business and community leader and benefactor
It is with deep sadness and a great sense of loss that we announce the death of Keith Beedie (Doctor of Laws, honoris causa), a chief benefactor of the Beedie School of Business and a dear friend of Simon Fraser University. Keith passed away peacefully in hospital on Wednesday, September 20. He will be deeply missed.
Keith Beedie was a visionary business leader and philanthropist known for his integrity, innovation and generous spirit. His commitment to higher education in British Columbia will benefit students and our community for many generations to come.
A self-made man with a grade 11 education, Keith strongly believed in the importance of creating learning opportunities to inspire future business leaders. In 2011, Keith and his son Ryan BBA '91 made a record $22 million gift to SFU that established the Beedie School of Business. The gift has since been used to create an endowment supporting students, professorships and research chairs, and has helped transform the School into a global thought leader in areas such as entrepreneurship & innovation and international business. In addition to his gift to the Beedie School of Business, Keith supported SFU by constructing the Beedie Softball Field, a world-class training facility for SFU's women's softball team, and giving to student awards.
As founder and former president of Beedie Development Group, Keith was widely recognized for his entrepreneurial drive and uncompromising commitment to quality, customer service and employee engagement. He began his career in 1945 at the age of 19, when he and a partner bought a 50 square metre lot in Vancouver's Marpole area for $200, upon which they constructed a concrete woodworking shop with their own hands. Over the ensuing decade he became a general contractor, building quality homes, including PNE prize homes, in the Lower Mainland.
After a downturn in the housing market during the early 1960s, Keith diversified by investing in commercial and industrial construction projects. Today the Beedie Development Group is Metro Vancouver's largest private industrial landowner, developer and landlord, having completed 21 million square feet of construction in British Columbia and Alberta.
In 2001, Keith Beedie was succeeded by his son Ryan as president, allowing him to focus on philanthropic efforts through the Keith and Betty Beedie Foundation. The foundation has advocated for better access to health care by building a family health care clinic in Sri Lanka and donating equipment to St. Paul's, Burnaby General and Vancouver General hospitals. It also supports Burnaby Kidsport, which enables underprivileged kids to participate in organized sports.
With hard work, determination and extraordinary business acumen, Keith Beedie has left a long-term imprint on the community through the property he has developed as well as the personal connections with employees and customers he established along the way. We extend our deepest condolences to the entire Beedie family.
Ali Dastmalchian, Dean, Beedie School of Business