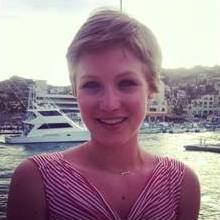 Name: Sarah-Kate Skinner
Graduated: 2010 – MBA (Full time)
Current Job: Merchandising Associate at Lululemon Athletica, Inc.
LinkedIn: http://www.linkedin.com/pub/sarah-kate-skinner/16/351/837 
Describe your career path and how you landed your job at lululemon athletica. 
I applied for a few different positions in early June in lieu of applying for an internship. I already knew a few people around the office because my thesis was based on lululemon and from being in the industry for a while, so that helped with my application process. I set my sights high and went for it! My advice for grads-to-be is to start thinking about what kind of job or company want to work for after your internship and get practice applying. Even if you don't get the job, you will get feedback about your application, helping you in the long run. 
What do you love most about your job?
I applied to lululemon because I love yoga, product and my team. lululemon gives me the opportunity to geek out on product all the time and pursue my passions all while getting paid. It's a dream come true.
How do you achieve work/life balance? 

Work/life balance is challenging because I am happiest when I'm a little over-worked. It's a fine line for me, as it is probably for most people. I find my balance when I chose to work everyday, and by that I mean I never feel obligated to work. Everyday I recommit to lululemon, and bring my whole self to work. This enables me to keep my work and personal life in perspective, remembering that no matter how stressful work and life can be, its only black stretchy pants.
What is the most valuable skill you learned during your time in the MBA program?
The most valuable thing I learned at SFU was that I didn't need to solve every problem. If I can identify the skills required, I can find the best person to do the job, producing higher quality results than I could ever manage on my own. It also enables me to work with amazing people that I might not have met otherwise, an added perk that makes my job way more fun!
What is the single best piece of career advice you can give to soon-to-be-grads?
The single best piece of career advice I can share with you is to learn how to give and receive feedback. Feedback given and received from a mindset of curiosity and continuous improvement both personally and professionally, is the secret to truly effective management of self and others. In laymen's terms, don't take it personally. Feedback worth giving and receiving is not about you the person, it's about your work and the business.
Any last thoughts?

One last thing that I would like to share, humility is a quality that I think goes over-looked by many recent graduates. While its important to see your potential and the massive value you add to a company, remember that everyone has something valuable to bring. Before attending SFU, I graduated as an apparel designer. I felt entitled to a job (that didn't exist) as a designer. Even with an undergraduate degree, I was a dishwasher (twice!) to pay the bills. It was incredibly difficult for me to admit that I needed the money and put my sense of entitlement aside. In this position, I learned how to be a team player and have a ton of fun at work, two things that I didn't learn in school. Eventually, I saw my team at the restaurant for the incredible people they are and made great friends. I think this experience enables me to be a better team mate today and it wouldn't have happened without a massive reality check.