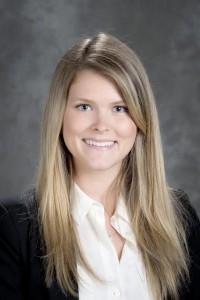 Name: Sophie Collins
Graduated: 2013 Academic Completion – MBA (Full-time)
Current Job: Project Coordinator at QuickMobile
LinkedIn: http://www.linkedin.com/in/sophieccollins
Where are you currently working and what path did you take to get there?
I will graduate in June 2014 but finished the academic portion of my MBA in 2013. I am working at QuickMobile as a Project Coordinator. Before I joined the MBA program, I had been an event planner for several years. I wanted to leverage my organizational and communication skills to pursue a role in Project Management. QuickMobile was a perfect fit because our clients are oftentimes event planners and our apps are used at events. 
What do you love most about your job?
The thing that I love most about my job is working with clients to achieve their business goals for their event app and hearing how big of an impact the app made at their conference. Oftentimes, this involves coming up with creative solutions that will work with our timeline and budget.
Who / what inspires you the most?
My family inspires me more than anything. I come from a family that is extremely hard-working & motivated. Sometimes when I'm feeling stressed out or unsure of whether or not I can accomplish something, I look to the people around me and remember the importance of perseverance.  They've taught me that you can do anything if you put your mind to it. It's important to surround yourself with people who will not only lift you up, but challenge you to be your best self.
What role has mentorship played in shaping your career? 
Mentorship has played a huge role in shaping my career. I have always had mentors, whether they are personal or professional. Mentors can aid in coming up with solutions to troubles you are having at work, help you prepare for interviews and help you understand your career trajectory. It's so important to have someone wise and experienced to bounce ideas off of and to be there when you need some sage advice.
What is the most valuable skill you learned during your time in the MBA program?
The most valuable skill I learned during my time in the MBA program was working with people from different backgrounds. You can learn so much if you take the time to actively listen to people who don't have the same viewpoint as you.
What is your most memorable moment from your MBA?
The most memorable moment of my MBA was going to the International Business Ethics Case Competition with great friends and teammates and winning! It was amazing to have our hard work pay off and come home with some trophies for Beedie.