Lunch and Learn: Bullfrog Power
Friday March 10, 2017
1:30pm to 2:30pm
SG4800 at the Segal Graduate Building, 500 Granville Street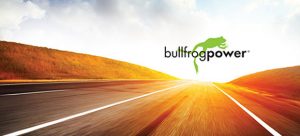 Guest Speaker: Emily Briggs, Corporate Marketing and Communications (Western Canada), Bullfrog Power
Bullfrog Power is Canada's leading green energy provider and Emily works on the marketing team, specifically overseeing all corporate accounts in Western Canada.
Bullfrog's Mission: to inspire and empower businesses to lead the way in creating a renewably powered future. 
So how does Bullfrog achieve this?  Bullfrog Power partners with businesses and individuals by calculating the amount of fossil fuel energy used, and matches that amount by putting green energy on the grid (green electricity, green natural gas, and green fuel).  Bullfrog Power is a Certified B Corp, meaning that the company focuses on solving social and environmental problems. 
One of the company's strengths is their green marketing strategy.  This ecological marketing allows Bullfrog Power to differentiate themselves by focusing on the environment when making marketing decisions.  Another technique used to differentiate is story branding.  This "Humans of New York" style campaign personalizes the work done by Bullfrog Power. 
Climate change is affecting Canada in so many ways, including the thawing of permafrost and earlier spring runoff to name a few.  By putting more green energy into the grid, the less fossil fuel energy is needed.  Emily's call to action: be an ambassador of climate change, be an ambassador of Bullfrog Power.